What are my tooth replacement options?
Dental implants are the most natural looking and natural feeling replacement for missing teeth. Unlike other tooth replacement options, dental implants don't slip or click when you talk, laugh, or eat. They also help to keep your jawbone healthy and make sure facial structure stays intact.
There are several reasons why people lose teeth. Trauma, gum disease, malocclusion (misaligned bite), or many other reasons can also damage teeth to the point of loss. In the past, people with missing teeth were limited to options such as full or partial dentures and other removable appliances. Dental implants offer patients several amazing benefits including the ability to replace missing teeth with a long-term solution that looks and functions like natural teeth.
When a tooth is lost and not replaced, the bone that was supporting the tooth no longer has a reason to be there, so it will begin to erode. This can cause bone loss around the surrounding teeth, and can lead to damaging and losing surrounding teeth, which may ultimately lead to the eventual loss of other teeth. Although dental implant procedures involve multiple steps, replacing just one missing tooth can not only sometimes be done in one day, it can help save the other, currently unaffected teeth from future damage.
When evaluating a tooth loss, there are a few critical areas that will determine what product will be used and how the dental implant(s) will be placed.
Degree of Bone Loss
Certain conditions, such as periodontal disease, can lead to bone loss. This means there's not enough structure for the dental implant to take hold. The good news is dental professionals can use techniques to rebuild and strengthen the area where a dental implant will be placed.
Tooth Loss Location
Some people have thinner gums than others. As a result, the metal material of a dental implant can show through like a gray shadow. This isn't something you want, especially when replacing a front tooth. Straumann® PURE ceramic dental implants is an option in this situation that will look more like the natural color of a tooth, so they don't create a gray shadow.
Single tooth replacement
Only have one tooth to replace and think you have limited options? The good news is that you are not alone, and better news is that you have replacement options, including Straumann's line of dental implants, which can condense the extraction, dental implant insertion and crown connection into just one visit*. Taking action to replace a tooth as soon as possible can help ensure you have a healthy, positive, long-term outcome.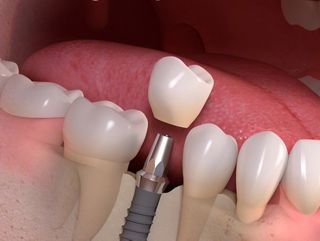 Multiple teeth replacement:
When people are missing multiple teeth but have not yet progressed to needing a full arch solution, a multiple dental implant solution is often the best and most conservative approach. This allows you to maintain some of your natural teeth and replace missing teeth with two dental implants and a bridge. Unlike partial dentures in the past, this solution is not removable. When the dental implants are placed and restored, you will have a fixed solution that functions and looks just like your natural teeth.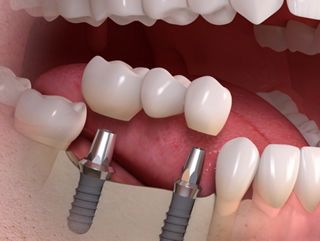 Replacing 4 or more teeth
Losing all of your lower or upper teeth can be a very scary situation. Unlike in years past, you are not limited to removable prosthetics like dentures and partials. Believe it or not, this type of situation is not uncommon and finding the solution that is right for your can have a dramatic impact on your life in a variety of ways.
One of the benefits of newer replacement systems such as Straumann's ProArch, is that one dental implant is not needed for every single missing tooth. Through innovations and breakthrough technology with dental implants, custom bars, and prosthetics, a full arch of teeth can now be replaced with as few as four dental implants.
Options for every situation
Whether you are looking to replace one or multiple teeth, Straumann offers a variety of product lines for TeethToday®, Pro Arch, and PURE to provide you with natural-looking teeth replacement. The best place to start is talking with your dentist about tooth replacement options for your unique situation.
*For patients who meet the clinical criteria for same day placement and restoration. Consult your dentist to determine if you may be a candidate for same day restoration.